Legarda Expresses Concern Over Threats To Ifugao Rice Terraces
June 4, 2015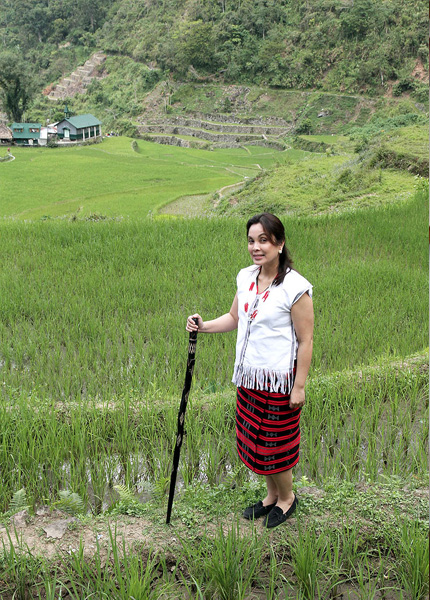 Senator Loren Legarda today reiterated her call for the protection of the Ifugao Rice Terraces following reports about the threats of deterioration brought by unmanaged development in the area.
"The Ifugao Rice Terraces have already been removed from UNESCO's list of World Heritage in danger in 2012, but today unmanaged development continues to threaten this Eighth Wonder of the World," said Legarda.
The Ifugao Rice Terraces were inscribed in the World Heritage List in 1995 by the UNESCO. The rice terraces were included in the 2001 UNESCO List of World Heritage in Danger due to its deterioration, but later removed from the danger list following improvements in conservation.
Legarda expressed alarm over reports that unregulated development is endangering the world-renowned terraces once again. Multistory structures and shanties made of cemented walls and tin roofs are already replacing the resilient traditional Ifugao houses, thereby losing the cultural and aesthetic value of the villages.
Reports also say that pests, including worms and snails, are causing major damage to the structures of the terraces, causing some to collapse.
"We have to immediately address growing concerns over the many issues surrounding the state of our rice terraces, in order to determine whether remedial measures must be introduced to ensure that this national treasure is sustainably protected," Legarda stressed.
The Senator herself helped restore one of the villages in Bangaan, Banaue back to its traditional feel as part of an initiative to promote Bangaan as a "Living Cultural Landscape".
"One of the biggest dangers being faced by the region is the abandonment of the so-called rice growing culture of the community as observed by the National Commission for Culture and the Arts. We need to instill cultural awareness among our youth as the future custodians of our heritage sites if we want to save the country's cultural symbols from destruction," she said.
"I urge concerned government agencies, particularly the Ifugao Cultural Heritage Office, the local government units and citizens of the Cordillera Region to work together in protecting this heritage and ensure that various efforts are in place to save the Ifugao Rice Terraces from degradation, before it is too late," Legarda concluded.