Legarda Reminds Public on Typhoon Preparedness as Soudelor Expected to Enter PAR
August 4, 2015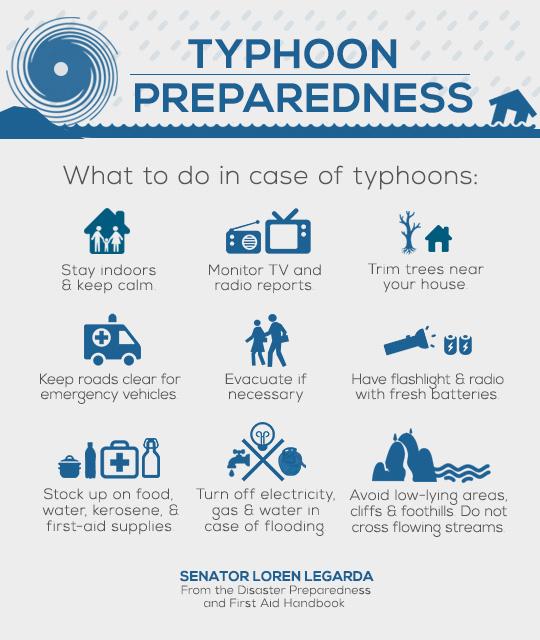 Senator Loren Legarda today reminded citizens on ways to prepare for a typhoon as Typhoon Soudelor (international name) is expected to enter the Philippine Area of Responsibility on Wednesday, August 5.
Legarda, Chair of the Senate Committee on Climate Change, said, "Citizens, especially those in areas with public storm warning signals, should regularly monitor weather updates and advisories for evacuation; while disaster preparedness and response agencies should be on alert for emergencies and concerned government departments ready to provide basic needs and relief items for residents in temporary shelters and affected areas."
The Senator reminded citizens of measures to undertake based on the Disaster Preparedness and First Aid Handbook, a manual produced by the Committee on Climate Change, in partnership with various government agencies.
What to do in case of typhoons
Stay indoors and keep calm.
Monitor TV and radio reports.
Secure your home. Trim trees near dwellings.
Keep roads clear for emergency vehicles.
Go to the nearest designated evacuation center if your house is in a flood-prone area.
Have a flashlight and radio handy, with fresh batteries.
Stock up on food, potable water, kerosene, batteries, and first-aid
In case of flooding, turn off the main sources of electricity, gas and water in your home.
Stack furniture above the expected flood level. Keep appliances, valuables, chemicals, toxic substances, and garbage beyond the reach of floodwaters.
Avoid low-lying areas, riverbanks, creeks and coastal areas, slopes, cliffs, and foothills. Rain can trigger landslides, rockslides or mudslides.
Avoid wading through flooded areas. Do not attempt to cross flowing streams.
Do not operate any electrical equipment during a flood.
Do not use gas or electrical appliances that have been flooded.