Legarda: Take Metro-wide Earthquake Drill Seriously
July 25, 2015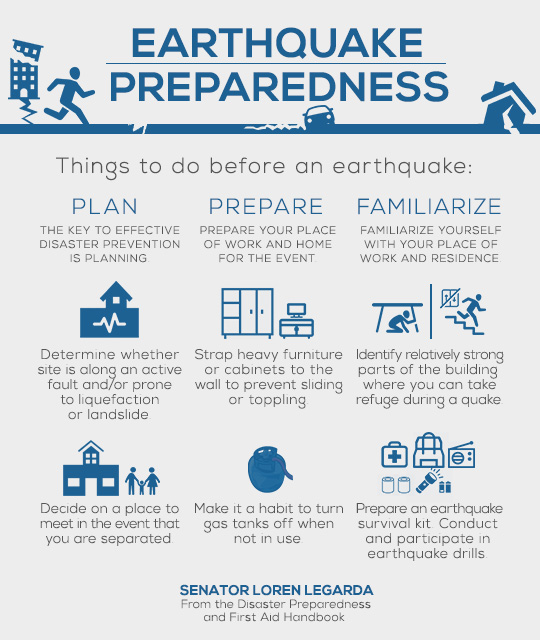 "I urge everyone to participate and take the metro-wide earthquake drill seriously. Earthquakes can occur without warning, there is no way to predict what will happen when it does, but there is a way to be able to survive strong temblors and minimize casualties and damages," said Senator Loren Legarda.
Legarda made the statement in line with the one-hour metro-wide earthquake drill set on July 30, with an estimated five to six million people from various sectors expected to participate. The Metropolitan Manila Development Authority (MMDA) said the exercise is based on the Metro Manila Earthquake Impact Reduction Study (MMEIRS) of the Japan International Cooperation Agency in 2004.
"We need to accept that we are constantly exposed to natural hazards but we do not have to live in perpetual fear of it. There are laws that aim to help us become proactive to addressing these natural hazards so they would not turn into disasters. We need to take disaster preparedness seriously and cooperation among all sectors of society is very important," Legarda stated.
According to the 2004 MMEIRS study, a 7.2 magnitude earthquake in Metro Manila may destroy 40% of residential buildings, cause 34,000 deaths, injure 114,000 individuals, and the ensuing fires may also result in 18,000 additional fatalities.
The Senator has insisted that the regular conduct of fire and earthquake drills in schools, offices and residential communities would effectively instill disaster preparedness among citizens.
Legarda also wants the establishment of early warning systems for earthquake and tsunami; determine open spaces for safe refuge when temblors occur; and craft evacuation plans that would help citizens find out the fastest and safest way to reach open spaces and other safe areas.
She had earlier filed Senate Bill No. 357, or the Preparedness in Buildings during Fire, Earthquake and other Hazardous Phenomena Act.
Under the bill, schools and other educational establishments, hospitals, nursing homes, clinics, orphanages and other buildings or structures used for the care of or occupied by the sick, infirm, or disabled are mandated to conduct monthly emergency drills.
The bill also proposes the conduct of emergency drills in school buses and other vehicles for transporting school children at least twice every school year.
The training should include practice and instruction concerning the location, use and operation of emergency exits, fire escapes, doors and fire extinguishers and other facilities provided for such purpose in buildings as well as the proper evacuation of buildings by persons in the event of fires, earthquakes and other hazardous phenomena.
Apart from conducting safety drills in schools and hospitals, the government and building owners are also required to ensure the structural integrity of these buildings.***
Please find attached Senate Bill No. 357, Preparedness in Buildings during Fire, Earthquake and other Hazardous Phenomena Act.
What to do before, during and after an earthquake? Visit this link to access the Disaster Preparedness and First Aid Handbook: http://issuu.com/oslegarda/docs/b_sll_pamphlet_2/7?e=0/2581750