Legarda Urges Gov't to Utilize IRRI Programs to Improve Agriculture in PHL
May 13, 2016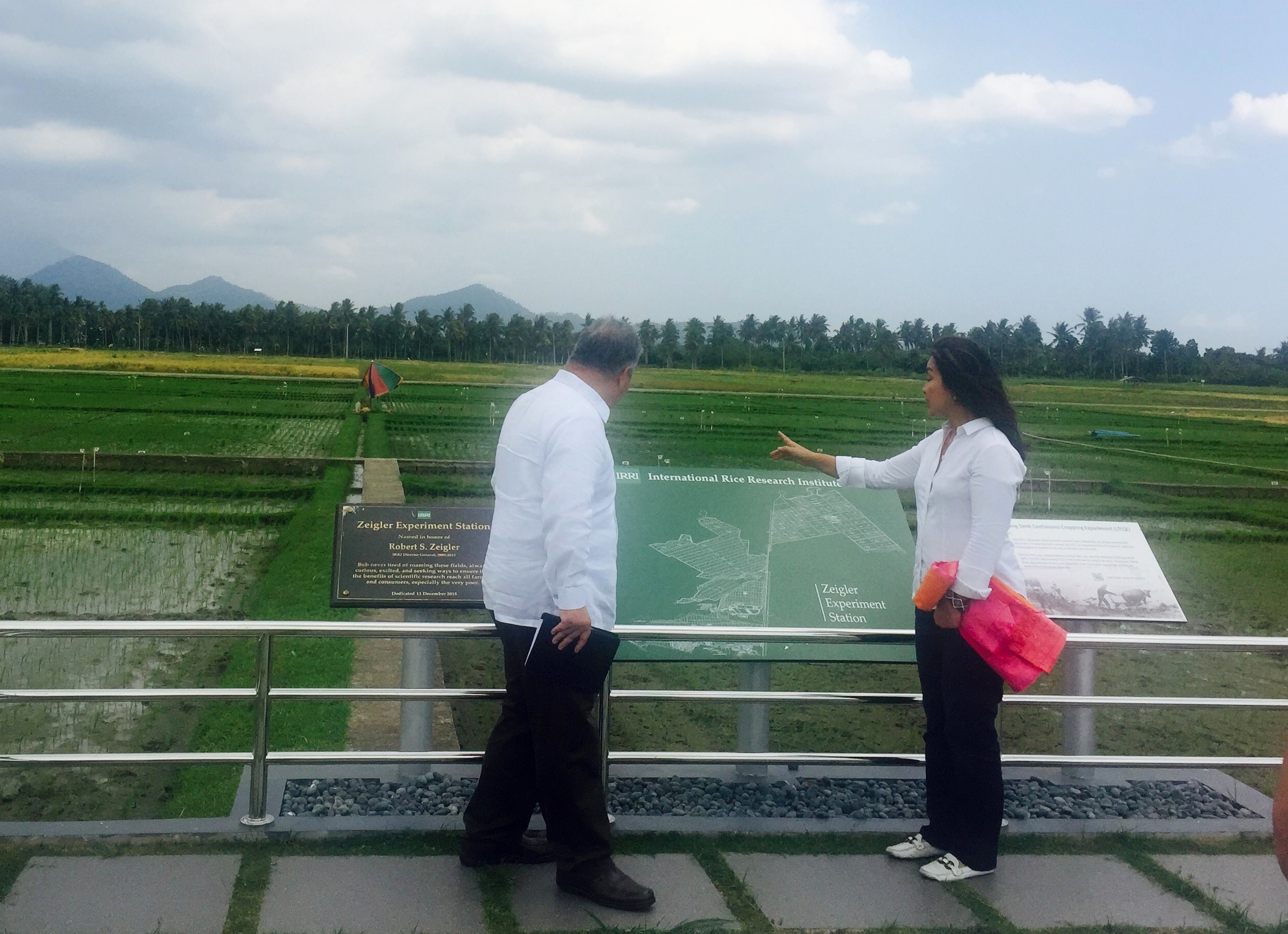 Senator Loren Legarda today said that the government must utilize the research programs of the International Rice Research Institute (IRRI) to improve agricultural systems in the country and to adapt to the changing climate.
Legarda visited the IRRI headquarters in Los Baños, Laguna on Thursday, May 12, and was briefed on the latest programs of the organization. The briefing was led by Dr. Bruce Tolentino, Deputy Director General for Communication and Partnerships, and Dr. Jackie Hughes, Deputy Director General for Research.
"Our government agencies, especially the Department of Agriculture (DA), should strengthen their collaboration with the IRRI. Many of IRRI's programs would help the government proactively address the drought caused by the El Niño, not only through drought-tolerant crops but also through water-saving technologies such as the alternate wetting and drying (AWD)," she explained.
Legarda, who chairs the Senate Committees on Finance and Climate Change, said that as PAGASA now warns of an impending La Niña, the government should have already prepared farming communities to adapt to the phenomenon.
IRRI has the SUB1 variety of rice that can withstand floods up to 17 days.
The Senator took note of several programs of IRRI that are already being done in other countries.
In India, women are being empowered and provided livelihood through community nursery services; while in the Mekong Delta, climate-smart villages have been established to improve the capability of rural communities to adapt to and mitigate the impacts of climate change.
"We must employ these programs here in the Philippines. The community nurseries will help further our initiatives to capacitate women to redefine rice farming. The climate-smart villages are much needed to improve resilience of farming communities to climate challenges. The DA, Climate Change Commission, and the Department of Environment and Natural Resources should also collaborate with IRRI in the conduct of capacity-building workshops for local government units (LGUs) from provincial down to the barangay level," Legarda explained.
The Senator also lauded IRRI for its partnership with the DA for the Heirloom Rice Project, which helps identify, preserve and propagate traditional rice varieties in the Philippines, particularly in the Cordillera Region and the Ifugao Rice Terraces, where most kinds of the heirloom rice are grown.
"We are fortunate that the IRRI headquarters is here in our country. We should take hold of that opportunity to improve our agricultural systems and farming communities, provide better livelihood opportunities for the rural population and indigenous communities, and preserve our heritage and cultural integrity," Legarda concluded.