Loren Legarda: 'The Venice Biennale has opened doors of vast opportunity for our artists
May 11, 2015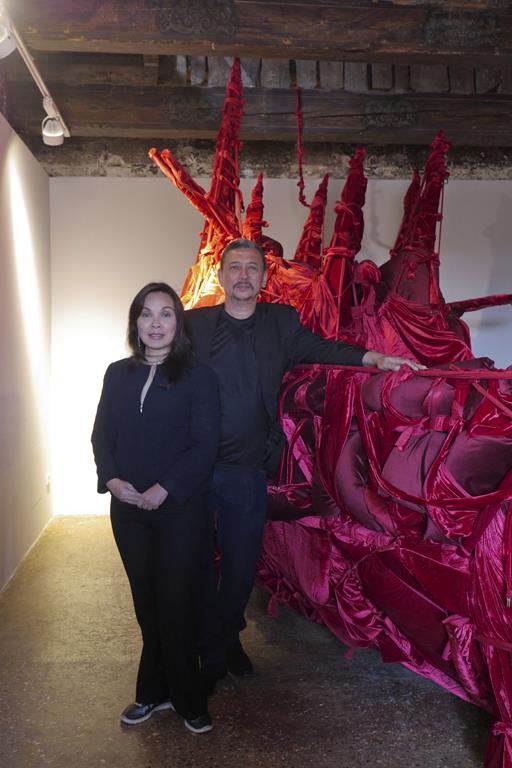 Now that the Philippines has made its triumphant return to the Venice Biennale, we asked the main architect behind the comeback, Senator Loren Legarda, about why it's so important for the country to join the world art stage, how she helped make it happen, and how local art has been a part of her own life practically since birth.
THE PHILIPPINE STAR: What made you work for Philippine participation in the Biennale?
SEN. LOREN LEGARDA: The puzzling absence of the Philippines in the Venice Biennale made me work for the country's return to this prestigious contemporary art exhibition. We have a robust history of Philippine art and a lively contemporary art scene. We have so many talented artists and curators, so why the absence? These questions led me to the knowledge that we once had a national pavilion in 1964 and that there were attempts to go back but maybe the support was not enough to make it happen. It became a challenge to me, so I tried to make this comeback happen. It was an arduous journey, but definitely worth it.
Do you have any behind-the-scenes stories about setting up the Philippine pavilion in Venice?
I am very happy that the Department of Foreign Affairs (DFA) and the National Commission for Culture and the Arts (NCCA) were very supportive of the idea and agreed to work for this project. But there were several challenges. The first was how to start with the preparations. I was only four years old when the Philippines first participated and I had no idea how they did it then.
I requested the DFA and NCCA to submit a joint letter to Mr. Paolo Baratta, the president of La Biennale di Venezia, expressing the country's interest in joining the 56th International Art Exhibition of the Venice Biennale. After receiving the formal invitation to participate from Mr. Baratta, the DFA, NCCA and my office formed a Coordinating Committee to carry out the preparations.
We decided to launch an open call for curatorial proposals, which is a democratic, inclusive and transparent process. We sent the open call invitation to academic institutions, art institutions, galleries, museums, both private and government-run, and even to those living abroad. But I was afraid no one would submit because people might not be completely aware of how to go about it.
We launched the open call on July 25, 2014 and the deadline for submission was Aug. 28, 2014. As the deadline was nearing, there were only two submissions. The Coordinating Committee decided it would be necessary to provide more opportunity for artists and curators to participate, so the deadline was extended to Sept. 3, 2014. By midnight of Sept. 3, there were 16 curatorial proposals submitted! We were overwhelmed because we thought we would only receive two to three proposals.
Then we formed the panel that would decide on the curatorial proposal for the Philippine pavilion. Mami Kataoka, chief curator of Mori Art Museum in Tokyo; Paul Pfeiffer, a Filipino-American multi-media artist who is based in New York; and Renaud Proch, executive director of Independent Curators International, all agreed to be jurors and they were equally excited about the project. Cid Reyes, respected Filipino art critic, artist and writer, NCCA chairman Felipe De Leon Jr., and myself completed the panel of jurors.
For two days, from Sept. 4 to 5, 2014, we deliberated on the proposals. It was a very difficult task because many of the proposals were very good and exuded creativity and brilliance of Filipino curators and artists. It was a proud moment for me because even the international jurors were very impressed with the proposals. In fact, we even thought maybe we could choose two or three proposals. But we knew we had to choose only one and so we selected Patrick Flores' curatorial proposal, Tie A String Around the World, which exhibited intellectual rigor, depth and immense creativity. The concept is also timely and very relevant to the country's affairs.
When was your first exposure to art?
My first exposure to art was from birth. My late mother (Bessie Legarda) was an art collector and had a business called Exhibits Unlimited in the 1970s where she helped aspiring artists mount exhibits and helped sell their artworks, too. I remember our home in Malabon looking like an art gallery. She was acquainted with the modernists, some of whom became steadfast friends like "Mang Enteng," Vicente Manansala.
Who is your favorite artist?
It is difficult to have a favorite artist since there are so many of them, but my thesis in college was a content analysis of the watercolor and oil paintings of Vicente Manansala during the martial law years. He was not yet a national artist then. I remember writing about him as a young, aspiring journalist for Millet Mananquil's weekend magazine, where Manansala was the cover story as national artist. I was in my early 20s and I am grateful to Millet for giving me one of my first writing jobs.
In terms of contemporary art, I admire the performance art of Tino Sehgal who was featured in the Swiss pavilion at the Architecture Biennale last year. He has blurred the line between performance and sculpture. I also admire the multimedia artist Paul Pfeiffer, who has an ongoing exhibition in the Museum of Contemporary Art and Design, or MCAD in De La Salle University-Benilde. His works have been shown in Munich's Haus der Kunst and he has participated in the Art Biennale in Venice in the past. Both artists Manny Montelibano and Jose Tence Ruiz have amazing depth, creativity and social relevance in their art so brilliantly curated by Patrick Flores.
Jun Yee is adept at creating artworks from felled wood and scrap materials and I truly appreciate that. He has interesting installations. The work of Anselm Kiefer of Germany years ago, which was exhibited in the Gagosian Gallery, was interesting in how he managed to use the cornfields as an installation. Kiefer processes his country's dark history through his work in an attempt to cleanse it of its guilt.
I guess my interest in paintings in the '70s has evolved to installation, video art, even performance and sound art. My son, Lanz, has had a great influence on me.
Have you had any close encounters or friendships with artists?
Mang Enteng Manansala was a close family friend. My mother and I used to go to his home in Binangonan and I would just stare at his art. I appreciated the cubism and the social realism of his work at that time.
I would also go with my mother to the homes and galleries of other artists like Sym Mendoza, Romulo Galicano, HR Ocampo and Ibarra.
Do you collect art, and if so, what makes you want to buy an artwork?
I collect the artworks that my late mother bequeathed to me. But these were modernists. I am much interested in contemporary art in the Philippines and in the world and have been helping our Philippine contemporary artists in my own way through the Venice Biennale. I believe that this historic comeback has opened doors of vast opportunities for them.
Why is art last in terms of government priority, and what can be done about it?
Art is no longer last in terms of government priority as I have initiated the Venice Biennale comeback; the selection of Taklub, a film by Brillante Mendoza which I produced with a disaster risk reduction (DRR) theme; the establishment of the first and only permanent textile gallery, Hibla ng Lahing Filipino, in the National Museum, which is an implementation of my vision; the support I give our weavers and the schools of living traditions (SLTs); the upkeep and rehabilitation of our Gabaldon-type and other heritage school buildings; and the support I give cultural diplomacy as an important pillar of diplomacy in the DFA. A curatorial intensive to be conducted by Renaud Proch, one of the Philippine Art Venice Biennale (PAVB) jurors who heads the Independent Curators International based in New York, will also happen this year in Manila.
You are also an artist. What medium do you like to work in, and what subjects do you like to portray?
I used to paint as a child and teenager. I painted nature as I, perhaps, was born an environmentalist in flood-prone Malabon. I have kept those paintings. Some are with friends from way back. These paintings have been reprinted as Hallmark cards many years ago. I like to work now on recycled wood and to reuse and repurpose natural materials to avoid waste and to create beauty and usefulness from otherwise useless things. I am inspired by so much creativity around us and see inspiration in everyday, mundane things.
Who were your mentors in art and culture?
I owe my interest and passion in art and culture to my late mother, Bessie, who exposed me very early in life to these which make up the soul of who we are as human beings. She was my mentor in more ways than one.
All the artists I met and got acquainted with through my late mother, the artists in the indigenous communities in the Philippines, the contemporary artists I work with in the Biennale, the contemporary artists I am exposed to in Europe and Asia, all of these varied experiences contribute to my continuing learning process and knowledge.
Source: Philstar