Sama and Tausug Weaving and Embroidery Featured at the National Museum
November 30, 2016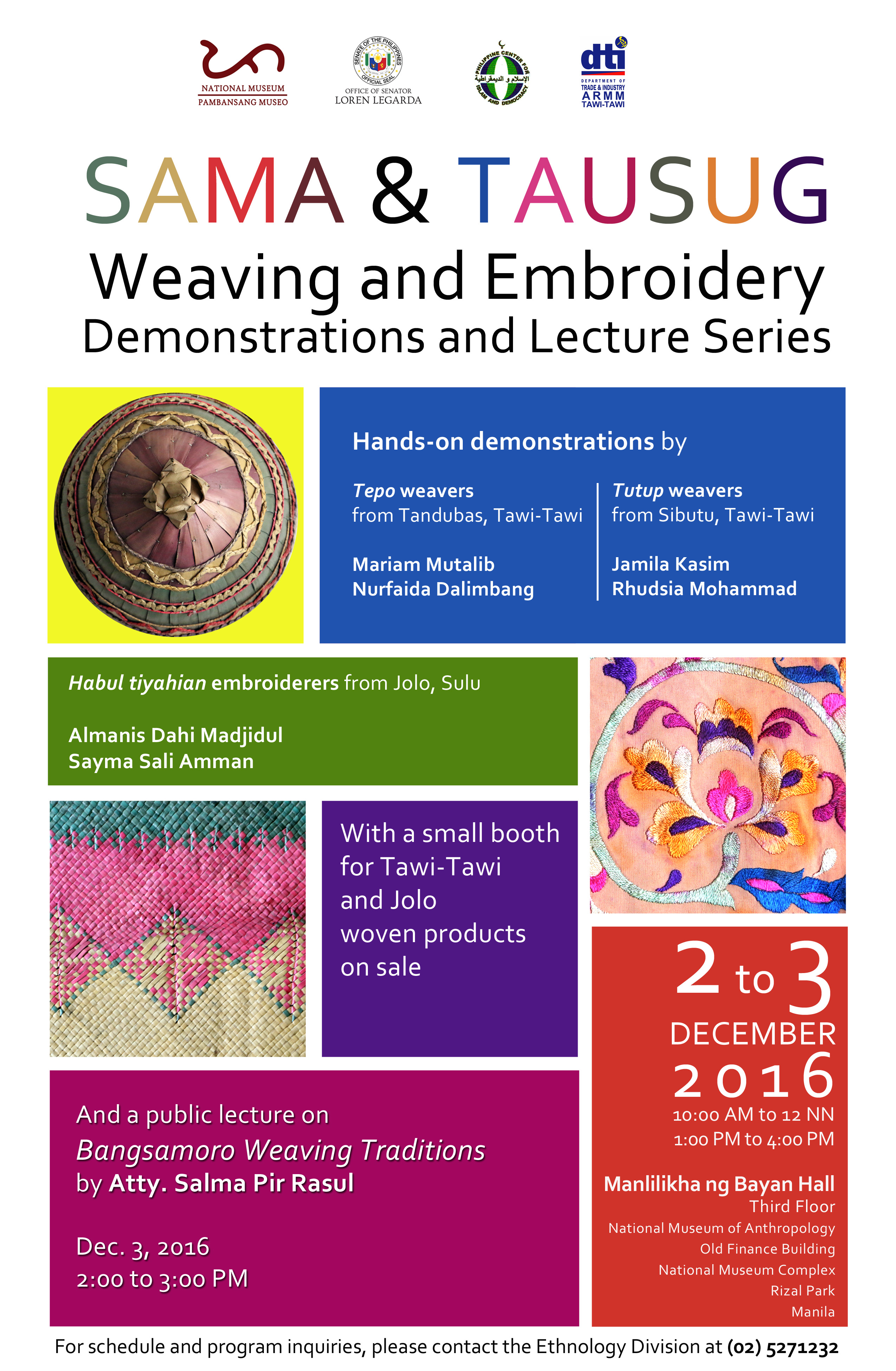 Senator Loren Legarda invites everyone to join the lecture and weaving demonstrations featuring Sama and Tausug Weaving and Embroidery on December 2 and 3, 2016, at the Manlilikha ng Bayan Hall, 3rd Floor, National Museum of Anthropology, Manila.
"I invite everyone to the lecture and weaving demonstrations at the National Museum to learn about the weaving and embroidery practices of the Sama and Tausug communities in Mindanao. This is an opportunity to interact with weavers from Tawi-Tawi and Sulu and discover what makes their weaving techniques unique from others," said Legarda.
Demonstrators include tepo weavers Mariam Mutalib and Nurfaida Dalimbang from Tandubas, Tawi-tawi; tutup weavers Jamila Kasim and Rhudsia Mohammad from Sibutu, Tawi-tawi; and habul tiyahian embroiderers Almanis Dahi Madjidul and Sayma Sali Amman from Jolo, Sulu.
A tepo is a Sama handwoven mat made of dyed pandan leaves; a tutup is a woven food and plate cover made of bamboo and pandan leaves; while habul tiyahian is a Tausug woman's embroidered skirt or sash.
On December 2 and 3, there will be demonstrations and hands-on tutorials by Sama weavers and Tausug embroiderers from 10:00 am to 4:00 pm.
On December 3, at 2:00 pm, there will also be a lecture on "Bangsamoro Weaving Traditions"by Atty. Salma Pir Rasul.
These weaving demonstrations are part of the Lecture Series on Philippine Traditional Textiles and Indigenous Knowledge, which Legarda and the National Museum initiated since 2012 to perpetuate weaving and indigenous knowledge.
This event was organized in partnership with the Philippine Center for Islam and Democracy, the Department of Trade and Industry-ARMM, and the Tawi-Tawi Provincial Office.