Senate Tackles DSWD's Budget: Legarda Says Livelihood, Employment Opportunities to Help 1.3M Transitioning 4Ps Households Completely Emerge from Poverty
November 17, 2016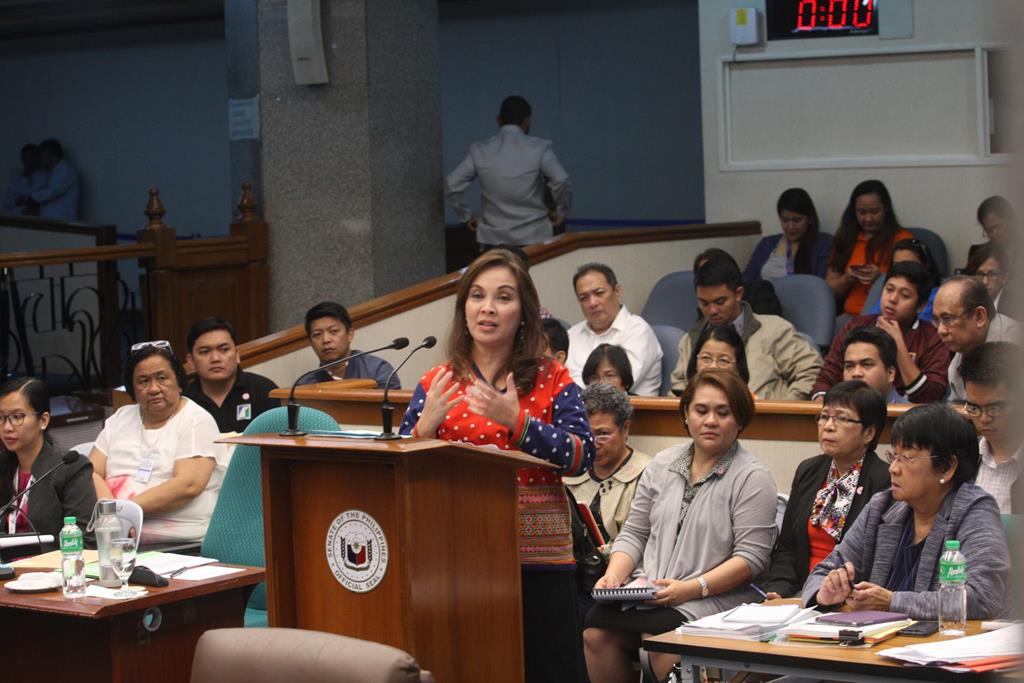 As the Senate deliberated on the proposed 2017 budget of the Department of Social Welfare and Development (DSWD) in the amount of P128.169 billion, Senator Loren Legarda said that 1.3 million of the 4.4 million household beneficiaries of the Pantawid Pamilyang Pilipino Program (4Ps) have already improved their level of well-being and are now classified as Transitioning Households.
Legarda, Chair of the Senate Committee on Finance, said that these transitioning households will continue to be provided with education grants, health services through the Department of Health and PhilHealth, and livelihood assistance.
"Transitioning households are those whose level of well-being have improved but are still vulnerable to economic shocks. Thus, to ensure that we build on the gains of the 4Ps, they are prioritized in the DSWD's Sustainable Livelihood Program (SLP)," she said.
The SLP is a community-based, capacity building program that seeks to improve the socio-economic status of the program's participants through the different modalities that it offers such as skills training, seed capital fund, pre-employment assistance, and cash for building livelihood assets. It offers two tracks—microenterprise development and employment facilitation.
Legarda explained the SLP is also available to non-4Ps beneficiaries. Eighty percent (80%) of the SLP beneficiaries are from transitioning households of the 4Ps, while 20% are non-member of 4Ps but are considered poor by the National Household Targeting System for Poverty Reduction (NHTS-PR) or identified as part of the vulnerable group (affected by disasters, differently abled, older persons, and out of school youth).
"I am a believer in providing capital assistance and tools for microenterprises and livelihood opportunities for our people because everywhere we go around the country, people say they want to have sources of additional income. It is important that we make the SLP accessible to the poor by simplifying requirements and government processes," she said.
She added that inter-agency convergence is crucial in helping poor families emerge from poverty, stressing that various government agencies—such as the Department of Trade and Industry (DTI), Department of Labor and Employment (DOLE), Department of Science and Technology (DOST), and the Technical Education and Skills Development Authority (TESDA), among others—have livelihood and skills training programs.
The Senator also said that the DSWD should tap the services of DOLE's Public Employment Service Offices (PESOs) for 4Ps members who wish to be employed instead.
"Every LGU is supposed to have PESOs, which serve as information centers where job seekers, especially in rural areas, can ask about available employment opportunities and services offered by DOLE and other labor-related agencies. It ensures that employment creation initiatives are matched with local training programs and livelihood activities, and avoid mismatches which greatly contribute to high unemployment rates," said Legarda, co-author of the PESO Act of 1999 (RA 8759) and its amended version (RA 10691).
Meanwhile, the Senate will include a special provision in the budget to prioritize persons with disabilities (PWDs) or families with members who are PWDs in accessing DSWD's SLP.
The Senate also urged the DSWD to simplify its criteria of qualified beneficiaries of the Social Pension for Indigent Senior Citizens so that all indigent senior citizens who are not receiving pension from Social Security System (SSS), Government Service Insurance System (GSIS), or Veterans Pension are automatically qualified for the program.