'Taklub' Wins Ecumenical Jury Special Mention in Cannes
May 24, 2015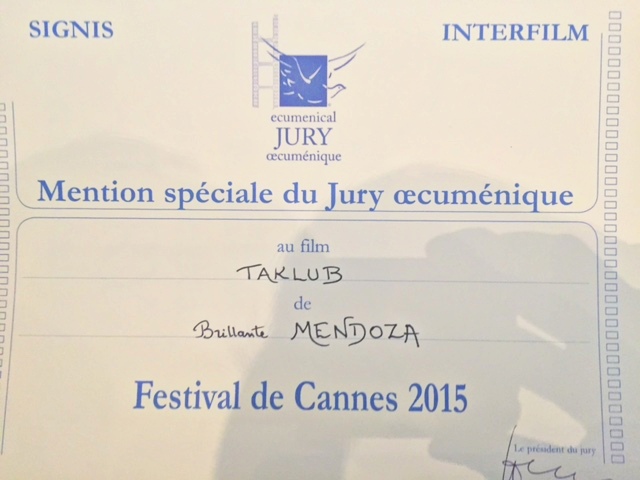 Taklub, the advocacy film directed by Brillante Mendoza and starring Ms. Nora Aunor, has received special commendation from the 2015 Ecumenical Jury at the 68th Cannes Film Festival in France.
Senator Loren Legarda, principal advocate of the film project, said that she was elated when Mendoza shared with her the good news.
"This is a great honor for the country. To have created such a film is already a big accomplishment since our focus is to strengthen awareness on disaster risk reduction and preparedness. Making it to Cannes was a remarkable feat. To be cited by the Ecumenical Jury is just overwhelming and truly a blessing," she said.
"I hope that the attention and recognition that the film has been receiving would help achieve the real goal of this project—to inspire with the resilient Filipino spirit and to learn from the lessons of past disasters," Legarda added.
The Ecumenical Jury awarded the special mention to Taklub, which is included in the festival's Un Certain Regard category, "for the sensitive portrayal of individuals and communities working for life in the midst of suffering and death in the shadows of natural catastrophes in the Philippines."
The Ecumenical Jury recognizes works of artistic quality that are testimonies "to the power of film to reveal the mysterious depths of human beings and the complexity of our society."
Prior to the award, Taklub had been receiving many positive reviews from film critics and was even included in Vogue Italia's ten must-see movies in the 2015 Cannes Film Festival.
Taklub was produced by the Department of Environment and Natural Resources (DENR), in cooperation with the Presidential Communications Operations Office-Philippine Information Agency (PCOO-PIA), with the support of Senator Legarda, principal advocate of the project.***
Here is the link to the Ecumenical Jury Special Mention:
http://cannes.juryoecumenique.org/palmares/mentions/article/taklub
Here are the links to the film reviews:
1.    Taklub is one of the Cannes 2015 movies not to miss according to Vogue Italia
http://www.vogue.it/en/people-are-talking-about/vogue-arts/2015/05/cannes-2015-the-movies-not-to-miss#ad-image
2.    Les Inrock review
http://cannes2015.lesinrocks.com/2015/05/20/taklub-un-voyage-terrifiant-avec-les-victimes-des-typhons/
3.    The Upcoming – Taklub review by Nina Hudson
http://www.theupcoming.co.uk/2015/05/20/cannes-film-festival-2015-taklub-trap-review/
4.    French critic Nicolas Thys
http://www.digitalcine.fr/20150520-6297-cannes-2015-jour-6-petit-periple-asiatique/#more-6297
5.    Spanish film critic Ricardo Fernandez
http://www.elcafederick.com/cannes2015-pixar-vuelve-al-trono/
6.    Variety – Cannes Film Review: 'Trap'
http://variety.com/2015/film/asia/trap-review-cannes-brillante-mendoza-1201500559/
7.    The Hollywood Reporter – 'Taklub' : Cannes Review
http://www.hollywoodreporter.com/review/taklub-cannes-review-796465
8.    Cannes You Dig It? : Episode 3
http://moviecitynews.com/2015/05/cannes-you-dig-it-episode-3/
9.    Taklub review from cinematografo.it
http://www.cinematografo.it/recensioni/taklub-trap/
10. Taklub review from Toute La Culture
http://toutelaculture.com/cinema/cannes-un-certain-regard-taklub-naufrages-et-reconstruction-apres-le-tsunami-par-brillante-mendoza/