The Art Issue: Philippine Tatler May 2015
May 6, 2015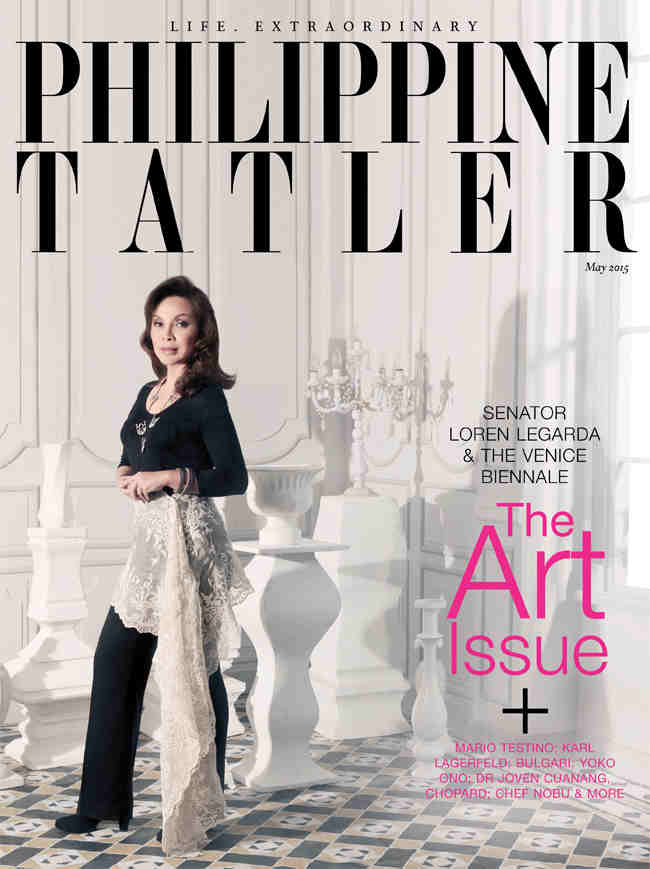 "The Venice Biennale is about the past, the present, and the future," Senator Loren Legarda takes the spotlight in the latest edition of Philippine Tatler, which celebrates Filipino artistry and craftsmanship this month.
The passionate Loren Legarda, Philippine senator, is clearly energised. Not that this is unusual, but at this evening's pictorial, something else is pumping the adrenalin other than her natural self.
The Philippine participation at the 56th Venice Biennale, a major international art exhibition, after 51 years of absence, was a two-year challenge that Legarda undertook. Organising, networking, e-mailing, calling, looking for supporters, connecting people, and conducting an open-search for a curatorial presentation with an esteemed panel of international judges—this was a tall order for anyone, but not for Legarda who never settles for anything less than success in any endeavour she undertakes.
She chooses from the many outfits she brought, unique pieces made from tribal cloths, which she accessorises with ethnic artefacts and matches with either a modern top or pair of pants. "The Venice Biennale is about the past, the present, and the future," she says, explaining why she eschewed a full Filipiniana outfit for just a piña embroidered wrap handmade by the women of Lumban, Laguna.
But what she can't stop showing and talking about is a necklace made from several lingling-o chained together. "There! Ask Patrick what a lingling-o is!" her voice in a crescendo as the curator Patrick Flores walks inside the studio. The curator of the Vargas Museum who won the bid for the Philippine participation to the Biennale with his theme "Tie a String Around the World" explains that the lingling-o is an ornamental design that is curiously found in countries in the South China Sea in different sizes and materials from gold to brass. "It is another item that proves these countries, including the Philippines, are so connected, and connected by the sea," he adds.
Source: Philippine Tatler